This is the 3rd post about Fashion Technology or Fashtech for The Fashion Retailer: 3D Printing (or Knitting) for Fahion Retail.
New technologies are enabling disruptive scenarios in the "Industry 4.0" for Fashion. The two first posts about Fashion 4.0 were focusing on Artificial Intelligence in Fashion and Virtual Reality and Augmented Reality in Fashion. What about 3D printing or 3D Knitting? According to Wikipedia, 3D printing is any of various processes in which material is joined or solidified under computer control to create a three-dimensionalobject, with material being added together (such as liquid molecules or powder grains being fused together). 3D printing is used in both rapid prototyping and additive manufacturing (AM).
As I mentioned in previous posts about Capsule Collections or the Fashion Retail Long Tail, niche brands are responding to the need of uniqueness thru short collections, something that makes them evangelists of sustainability. Mass-market brands are still investing in economies of scale and volume is their key driver while a huge amount of inventories are kept in warehouses or in-stores (inventory has an incremental costs when it gets closer to the customer, and this is why postponement or capsules are more efficient in terms of capital investments). H&M has big problem, with $4.3 Billion in unsold clothes, so inventory that is losing margin each day, according to latest news (March 2018).
Customization and Liquidity are some of the global trends that are redefining the Fashion Industry across its value chain. 3D Knitting supports the last phase of customization and postponement (like garment dye instead of yarn dye), while improves flexibility and lowers costs (e.g. inventory cost reduction, faster delivery times, higher service levels).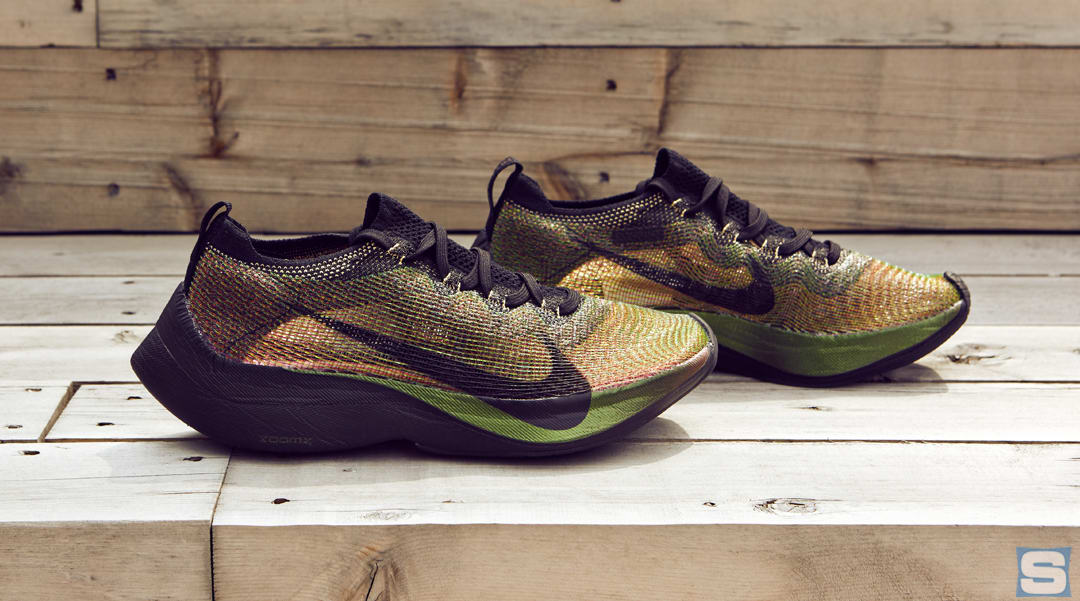 The black and green Zoom Vaporfly Elite Flyprint inspired by Kenya
(source: solecollector)
Regarding design, 3D design reduces time-to-market, ideal for fast-fashion or capsule collections. Fast-prototyping permits to visualize what a product is going to actually look like on the market, or have accurate samples/ renderings to support the assortment when selling to buyers. Regarding sourcing, 3D design increases vendor's accountability to deliver accurate samples and final production. It´s even possible to establish a virtual showroom to facilitate collection´s presentation to buyers or franchises, reducing their logistics costs. This is something that AR can also provide thru virtual showrooming.
3D design also enables faster and easier collaboration across in-house or external designers (liquid workforce is a trend (e.g. Uber) and more and more designers will be outsourced). As uncertainty is so high in the seasonal business of Fashion, product testing and fast-prototyping are a key driver to success. 3D design and knitting allows a better connection between designer, brands and customers. This new way manufacturing and body scan data (e.g. Fitle or Bodi.me) enables accurate customization. Also, the capability of manufacturing more complex, technical clothes will result on better products for the customer.
So, what are the
benefits

of 3D Knitting or 3D Printing in Fashion?
Quick Response
Lead time reduction: Cost of free replacement when a part is out-of-stock and long lead time is required
Transportation and shipment costs
Logistics reduction: If part of manufacturing is relocate near-shore, global transportation spend will be reduced
 Additive manufacturing offers a huge potential in accessories (e.g. glasses) and spare parts
Shrinkage/Scrapping risk reduction (obsolescence, damage, theft, misplacement)
Energy cost reduction in production (reduction of greenhouse gasses)
Material savings and reduction of production costs of metal in the case of leather goods manufacturing
Inventory carrying costs (Warehouse rent, Material handling equipment, Racks, Resource time to receive, pick, issue, return, & count)
Improve customer service levels and customer satisfaction
Fit and Comfort
Customization: Sports and sneakers brands like Nike or Adidas are already using 3D Printing to produce soles that traditional molding techniques couldn´t create
Karl Lagerfeld 3D Printing suit presented at Paris Fashion Week (2015)
It seems that the existing dichotomy between art and science is begining to break with Fashion 4.0. Designers are playing the "technology game".
What companies or startups (and DESIGNERS) are using 3D Printing / 3D Knitting in Fashion retail?
MINISTRY OF SUPPLY is a Boston-based high performance business wear men's and women's fashion brand launched in 2012 and founded by former Massachusetts Institute of Technology students using some of the same temperature regulating material as NASA astronauts in their clothing. Ministry of supply created 3D Print–Knit, like 3D printing, but for clothes. Instead of cutting and sewing pieces of fabric, they design a garment in 3D, and then "print" from yarn to garment.
Radically engineered dress clothes – Ministry of Supply
ADIDAS created the Futurecraft 4D with the help of Carbon, a company that uses 3D printing. The midsole is formed using Carbon's "Digital Light Synthesis" technique, which uses oxygen and light to form the sole. The technology makes a higher quality product faster than traditional 3D printing. It'll also allow adidas to customize soles to individuals in the future (New Balance and Under Armour also have experimented with 3D printing manufacturing).
This Is Adidas' First Mass Market 3D-Printed Shoe
ENDEER a French startup specializing on lingerie made using 3D printing technology. The company sells lingerie without sizes because it´s totally hypercustomized to the real shape of the customers. Endeer has tested their lingerie with 304 customers, including girls from 16 years old to 73 years old women.
JULIA DAVIY is an ecologist and clean technology industry manager who saw the emergence of 3D printing as an opportunity to repair some of the pressing human and environmental costs of clothing production. She has so far designed a line of organically manufactured activewear and began experimenting with 3D printing in 2016.
VOJD STUDIOS VOJD Studios is the cutting-edge Berlin-based house creating 3D printed accessories and jewellery confronting perceptions of tradition and conformity. VOJD Studios partners with leading fashion houses, among which Alexander McQueen, LOEWE, Carolina Herrera, Akris, Prabal Gurung, A.F. Vandevorst, on integrating 3D printing in their collections.
DANIT PELEG is a Fashion Designer known for her 3D Printed Fashion work. She develops her own textiles and experiments with various technologies such as laser cutting, screen-printing and 3D printing.
A 3D-Printed Garment That You Can Buy Online
BODI.ME, has developed a unique algorithm that allows to predict accurate size. Bodi.Me users enter their measurement manually or enter a 3D body scanner, and can then have access to hundreds of fashion websites with their correct size showing. It also proposes to fashion brands to integrate visual digital tools to address fitting and styling, that Bodi.Me users can access with their login. These multi-channel tools promise to drive low conversions up in well established apparel companies, and decrease ecommerce returns (averaging 35%) and costs.
JULIA KÖRNER is an award-winning designer working at the convergence of architecture, product and fashion design – specialising in additive manufacturing and robotic technology.  Recognised today at the forefront of 3D printed innovative designs, Julia's work stands out at the top of these disciplines. Julia collaborated with costume designer Ruth Carter for the movie Black Panther.
3D Printed Hymenium Bag by Julia Körner
STEFANAKOU is an interdisciplinary studio that connects emerging technologies with fashion through projects. STEFANAKOU's first project 3D prints highly-detailed embellishments to create one-of-a-kind garments. The company leverages 3D printing for product designs that meet the individual needs of consumers.
NIA Clothing uses a 3D knitting machine to create seamless and purposeful clothing and uses all natural and Eco-friendly materials to design a made in the USA line. The knitting machines that are being used to create its garments are called WHOLEGARMENT® knitting machines, from Shima Seiki.
The positives of WHOLEGARMENT® knitting (Shima Seiki)
ZER explores new sustainable manufacturing possibilities using 3D printing. ZER also takes advantage of 3D scanning technology to custom-fit the garments. CONNECT3D, its latest colelction won the Samsung Ego Innovation Project (January 2018).
Read more about Fashion Technology in The Fashion Retailer: